Google Applications
G Suite for Education
On January 29, 2018, G Suite for Education applications (Gmail, Drive, Docs, etc.) moved under the Login service, enabling access with your VT Username (PID) and password, and providing 2-Factor Authentication protections.
The separate G Suite password is no longer needed.
Most users do not need to make any changes with this move - you are now just directed to the familiar Login screen.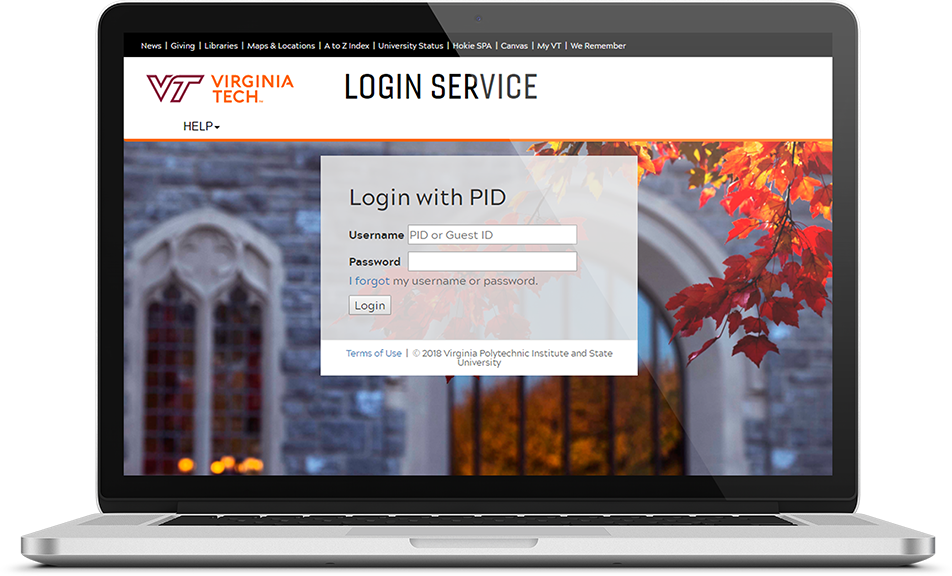 Log in the same way you already do for many other applications.
If you have forgotten your VT Username (PID), or have not set up 2-Factor Authentication - which is possible if you are an alum or recently left the university - please follow this link to:
The setup for 2-Factor Authentication will happen automatically upon resetting your password.
Special Use Cases
Checking Gmail through secondary applications
To have the best experience and strongest security measures, we strongly recommend accessing Gmail through Google's web interface or a mobile app instead of relying on other applications like Outlook or Mail for macOS. These applications may still work, but do require following additional instructions to create an App Password for your email application.
Examples of other applications include email clients such as Outlook, Mail for macOS, and Thunderbird. To continue using these applications, it is necessary to connect the application using a Google Apps password. For additional information on how to proceed, click here to review suggested steps.
GAE Accounts (Google Auxiliary Email)
GAE accounts are used for collaborative work in teams, and enable a shared email address and account access. The method for accessing GAE accounts also changed on Jan. 29th, 2018. The changes can be summarized as follows, depending on how you are using the GAE account:
GAE account owners

At log in, you can choose whether to access the primary G Suite account or the GAE account(s).
If you need others to be able to access the GAE account, you will need to set them up as delegates.

GAE account users (non-owners)

Contact the account owner to be set up as a delegate for the account.
For detailed instructions on how to set up delegation on GAE accounts, click here.